Thoughts On the Series As A Whole
First off, I loved the entire series. I never thought that I would seriously sit down and read a romance book and not scoff at every other word, much less an entire series. The Old West trilogy by Beverly Jenkins has caused me to completely look at romance novels in an entirely new light. The development of the stories, characters, and the general flow of the series was absolutely lovely.
The Old West Trilogy follows a family of motivated and headstrong black women in the late 19th century and showcases their struggles with being both black and women, along with their ~struggles~ with the men who they find As each book follows a different member of the Carmichael family in a different area of America the issues being showcased slightly change.
One of my absolute favorite things about the series were the covers. I thought it was so amazing to see black people happily in love (or lust) on the covers of a genre that is so dominated by white bodies and faces. It was amazing.
Thoughts on the Individual Novels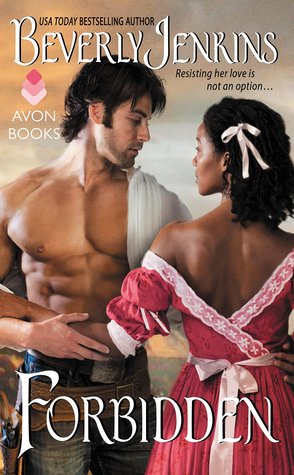 In the first novel in the series, Forbidden, Eddy Carmichael, dreams of opening her own kitchen/restaurant in California but ends up stranded in Nevada where she meets businessman and real estate, mogul. Rhine Fontaine. Rhine has been passing as a white man in order to make his fortune but his attraction to Eddy causes him to reconsider passing. The book addresses topics such as white-passing, marital, business, and real estate laws, and what types of communities African-Americans formed after the Emancipation.
The second novel, Breathless, follows Portia Carmichael, one of Eddy's nieces as she fights to prove that she's just as intelligent as any man, doesn't need a man and that she's completely capable of managing her uncle's hotel. Temptation comes in the form of a man named Kent Randolph who's a black rancher and occasionally reffered to as a "cat-house king". The novel explores themes of racism toward Native America's, further struggles of being black in the West (both on the side of men and woman), and woman's suffrage rights. It wasn't my favorite in the series, but I found it interesting enough to move me on to the third and final book.
The last novel, Tempest, follows Regan Carmichael, (sister to Portia and Eddy's other niece), as she follows her dream of becoming a mail-order bride. She travels to the Wyoming Territory to become the wife of the widower, Dr. Colton Lee, who is looking for a strong female figure to take care of his daughter. Regan however, might be a tad bit too strong of a female figure and Colton has his doubts. However, those are soon overridden and Colton starts to feel his heart melting for Regan. The novel explores themes of propriety, gender roles, and life in the territories. It even briefly touches on the treatment of Chinese-Americans and immigrants. This book definitely had the most "sexy time" out of the trilogy and was my favorite in the series (not for the sexy time, but just because Regan is such a dope ass female character!)
_
So, there you have it! Those are my thoughts on The Old West trilogy as a whole by Beverly Jenkins and on the individual novels. Let me know if you have read these, and also, let me know what some of your favorite romance novels are! Especially let me know if they're written by a PoC!!
Hope you have a wonderful day & read a wonderful book,
Rae