I rarely do monthly wrap-ups. But, something about having a new(ish) blog space makes me want to fill it with stuff SO, y'all are getting a May reading wrap-up.
Also, May has been a pretty good month for me in terms of reading. Mainly because I turned in my last final of the Spring semester and finally had the time to read all the stuff that I had been meaning to read.
In total I managed to knock out;
9 books (whaaaaaaaaaaat????!)
& 6 graphic novels.
So let's briefly (hopefully) run through my thoughts on the books
__
The beginning of the month I finished up Dragon Teeth by Michael Crichton. I loved Jurassic Park, saw the dinosaur on the cover of this one and thought it would be similar. It wasn't and I was gravely disappointed, and that's what I get for judging a book by it's cover. Essentially it was about competitive fossil hunting between two paleontologists and one young man caught in the crossfire. It had it's moments, but overall, it's not something I'm going to remember for long.
After that, I managed to knock out Black Fortunes: The Story of the First Six African-American's who Escaped Slavery and Became Millionaires by Shomari Wills. This book was fucking ah-ma-zing. I've been trying to read more about African-Americans by African-Americans and this was exactly what I needed. It follows the lives of 6 African-Americans and how they gained, and in some occasions lost, their fortunes and history books "tend to" forget about them. I loved it and might actually buy it and add it to my own personal library sometime soon.
Breathless by Beverly Jenkins was my third book of the month and I enjoyed it. I felt like I needed something a tad bit more lighthearted after Black Fortunes and this hit the spot perfectly. It's the second book in Beverly Jenkins' Old West trilogy and eventually, I'll get around to reviewing the series as a whole.
Breathless was quickly followed by The Storied Life of A.J. Fikry by Gabrielle Zevin. I picked it up because it was SFPL's "Two Cities One Book" selection and because it's a book about books. I talked about this one of my YouTube channel and you can find that video here.
I'd had my eye on Confessions of a Young Nero by Margaret George since it came out, aaaaaand I even purchased it when it first came out but I didn't get around to reading it until this month. Usually I absolutely love Margaret George's writing style…but something about this one was just a wee bit too sluggish. I loved sections of it, but there was a lot that I wish wasn't there. I do fully intend on buying the second book in the two-part series though.
Sourdough by Robin Sloan was next up on the grand list. This one I demolished in less than 24hrs. I absolutely loved Sloan's first book Mr. Penumbra's 24-Hour Bookstore and had been wanting to read this one since it first came out. I absolutely loved Sloan's writing style for this and I loved that there was romance without it being about romance or relationships or whatever. It was beautiful in a very simple way. It also made me want to learn how to bake bread, but that's probably never going to happen.
After reading Sourdough, I decided to embark on a mini graphic-novel binge. I ended up reading the first 6 volumes of Birthright by Joshua Williamson. At first I was incredibly wary of it because the first few panels didn't really feel like what I wanted to read but once I got over that I was hooked. My favorite part about the series is that it highlights what it could potentially be like for a family whose child has gone missing and returned under a fantasy/otherworldly pretense. It's weird…but in a very good way. I think I might start collecting these.
Too Big to Miss by Sue Ann Jaffarian was a bit of a random grab. Usually I tend to stay away from mysteries, especially mysteries that are part of an epically long series. The whole "who done it" aspect tends to bore me quickly but thankfully, this book had just enough plot twists that I managed to skip it. The writing was funny and quirky and I found myself constantly cheering for the main character, Odelia. I even lol'd a few times. However, I don't see myself continuing on with the series anytime soon – like I mentioned previously, I'm very wary of mystery series.
However, reading the first book a series did in some weird way motivate me to finish the Old West trilogy so I finished Tempest by Beverly Jenkins. I absolutely loved Tempest. It had waaaaaay more sex scenes than the previous two, but that's not why I loved it. I loved it because the main character Regan, definitely reminded me of me. Her ability to go from tomboy to lady in a heartbeat is what got me. Still, I fully plan on doing a series review of the Old West trilogy soon!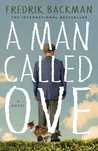 I ended the month with A Man Called Ove by Fredrick Backman. It was a freakishly heartwarming story about a grumpy old man, loss, and friendship. I laughed and I cried. It was a bit like The Storied Life of A.J. Fikry where it had one of those slightly unsuspecting endings but it was still insanely nice. I've been on a bit of a "grumpy man person" kick lately.
__
And that's the entirety of my reading for the month of May.  It was a freakishly good reading month. I think my favorite book of the month was definitely Sourdough – just because it had so many feel goodnchunks and because I'm horribly in love with books that are set in San Francisco.
What were some of your favorite reads from last month & what do you plan on reading in June?
Hope you have a wonderful day & read a wonderful book!
-Rae