I haven't done a monthly TBR post (or video) in forever! Here are the books that I hope to tackle this fine month of August:
NONFICTION
Hypatia: The Life and Legend of an Ancient Philosopher by Edward J. Watt
Synopsis (from inner flap):
Sixteen centuries ago the Neoplatonist philosopher Hypatia was murdered by a mob of Christians. Ever since, she has been remembered in poems, plays, paintings, and films as a victim of religious intolerance whose death symbolized the end of the classical world. But before she was a symbol Hypatia was a person. As one of antiquity's best-known female scholars, Hypatia's immense skills as a philosopher and mathematician redefined the intellectual life of her home city of Alexandria. Her talent as a teacher enabled her to assemble a circle of dedicated male students. Her devotion to public service made her a force for peace and good government in a city that struggled to maintain trust and cooperation between pagans and Christians. These intellectual and political triumphs were all the more astonishing for being accomplished in a climate of gossip, scrutiny, and misogyny.
Hypatia: The Life and Legend of an Ancient Philosopher is a major new account of this remarkable woman the culturally rich and turbulent context in which she lived. Utilizing new techniques for reading ancient letters and mathematical and philosophical commentaries – as well as a number of previously unnoticed early modern sources – Edward J. Watts provides a revelatory narrative of Hypatia's life, her formidable achievements, the tragic story of the events that led to her murder, and the rich legacy of her life and death.  
If you know me at all you already know all the different reasons as to why this book appealed to me. Early religion, Egypt, a woman of antiquity in a position of intellectual power and control, how in the world could I ever resist?
In The Wake: On Blackness and Being by Christina Sharpe
Synopsis (from back cover):
In this original and trenchant work, Christina Sharpe interrogates literary, visual, cinematic, and quotidian representations of Black life that comprise what she calls the "orthography of the wake." Activating multiple registers of "wake"—the path behind a ship, keeping watch with the dead, coming to consciousness—Sharpe illustrates how Black lives are swept up and animated by the afterlives of slavery, and she delineates what survives despite such insistent violence and negation. Initiating and describing a theory and method of reading the metaphors and materiality of "the wake," "the ship," "the hold," and "the weather," Sharpe shows how the sign of the slave ship marks and haunts contemporary Black life in the diaspora and how the specter of the hold produces conditions of containment, regulation, and punishment, but also something in excess of them. In the weather, Sharpe situates anti-Blackness and white supremacy as the total climate that produces premature Black death as normative. Formulating the wake and "wake work" as sites of artistic production, resistance, consciousness, and possibility for living in diaspora, In the Wake offers a way forward.
I'm ashamed to say that I don't read a lot of black-authored scholarly works. When this book fell (literally) into my hands I was instantly interested by the title and after reading the synopsis I was determined to read the rest of the book.
FICTION
Talon of God by Wesley Snipes & Ray Norman
Synopsis (from inner flap):
Imagine that everyone you have ever known or loved was forced against their will into a state of demonic possession and spiritual slavery. Imagine an unholy cabal of the world's richest and most powerful men directing this sinister plan in order to cement their unbridled control of the planet.
Imagine two heroes emerging from that darkness to do battle with the forces of evil.
Set in the mean streets of Chicago, Talon of God is the action-packed adventure centered around the Lauryn Jefferson, a beautiful young doctor who is dragged into a seemingly impossible battle against the invisible forces of Satan's army and their human agents that are bent on enslaving humanity in a mission to establish the kingdom of hell on Earth.
But Lauryn is a skeptic, and it's only as she sees a diabolical drug sweep her city and begins to train in the ways of a spirit warrior by the legendary man of God, Talon Hunter, that she discovers her true nature and inner strength. Facing dangerous trials and tests, it's a true baptism by fire. And if they fail, millions could die. And rivers of blood would flow throughout the land.
Imagine such horror. Such pain. And imagine what it would take to fight against it. For only the strongest and most faithful will survive…
Get ready. Armageddon approaches quickly.

This was an impulse grab. The first time I walked by it I thought "Nah, it can't be that Wesley Snipes" and I kept it moving. The second time I walked by it I thought "Ok, let me see if it is that Wesley Snipes" and lo and behold, it was. Plus, the synopsis sounded pretty gosh darn interesting (and very Wesley Snipe(ish)).  I've read a little bit of it so far and I've found it to be pretty enjoyable!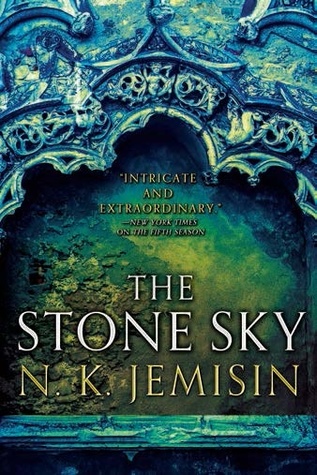 The Stone Sky by N.K. Jemisin
Synopsis (from Goodreads):
The Moon will soon return. Whether this heralds the destruction of humankind or something worse will depend on two women.
Essun has inherited the power of Alabaster Tenring. With it, she hopes to find her daughter Nassun and forge a world in which every orogene child can grow up safe.
For Nassun, her mother's mastery of the Obelisk Gate comes too late. She has seen the evil of the world, and accepted what her mother will not admit: that sometimes what is corrupt cannot be cleansed, only destroyed.
I don't actually have this book in my possession yet since it's publication date isn't until the 15th, but you best believe I have pre-ordered it from a local bookstore! I absolutely love Jemisin's writing style and I'm so excited to see how this series is going to end. Ugh, the 15th can't come fast enough!
*Please note that at the time of this post this book has not been released so your local library may not have ordered it yet. However, if you chose to purchase you can pre-order it!
GRAPHIC NOVELS
Black Panther: World of Wakanda by Roxane Gay & Ta-Nehisi Coates
Illustrated by Alitha E. Martinez & Roberto Poggi
Synopsis (from Goodreads):
Wakanda! Home of the Black Panther, a proud and vibrant nation whose legends and mysteries run deep. Now, delve deep into Wakanda's lore with a love story where tenderness is matched by brutality! You know them as the Midnight Angels, but for now they are just Ayo and Aneka — young women recruited to become Dora Milaje, an elite task force trained to protect the crown of Wakanda at all costs. But with their king shamed and their queen killed, Ayo and Aneka must take justice into their own hands! They've been officers. Rebels. Lovers. But can they be leaders? Plus: the return of former White Tiger, Kasper Cole! As Wakanda burns, Cole can only watch helplessly from halfway around the world. Will he find a new beginning — or meet a painful end?
Collecting BLACK PANTHER: WORLD OF WAKANDA #1-6
I really enjoyed Ta-Nehisi Coates Black Panther series and knowing that some of those characters are being picked up and expanded on in a new run was more than enough reason for me to pick this up.
Deadly Class Vol 5: Carousel by Rick Remender and Illustrated by Wes Craig
Synopsis (from back cover):
The brutal Freshman Finals at Kings Dominion School of the Deadly Arts have created a new status quo. The Student Council has eliminated all its enemies and rules the halls with an iron fist. Into this shark tank comes a new class of kids, fresh blood for a fresh start.
There is Quan, a Vietnamese rockabilly, quick with his knives and a comb. Helmut, an East German metalhead with a hatred for communists. Zenzele, a hammer-swinging refugee of a brutal African civil war, and Tosahwi, a Native American skate punk with a whole nation's history of violence to pay back.
And then there's Saya, who alone of her group of friends survived the finals and who stands poised to become the school's deadliest student. But when her dark past comes back to haunt her, will she ride the torrent of blood she's unleashed or end up drowning in it?
I had almost forgotten about this series until I was shelving graphic novels a few days ago and came across them. The fourth one had a super insane ending so I'm excited to see where this one goes.
March (volumes 1 – 3) by John Lewis and Andrew Aydin and Illustrated by Nate Powell
Synopsis (from innner-flap):
Congressman John Lewis (GA-5) is an American icon, one of the key figures of the civil rights movement. His commitment to justice and nonviolence has taken him from an Alabama sharecropper's farm to the halls of Congress, from a segregated schoolroom to the 1963 March on Washington, and from receiving beatings from state troopers to receiving the Medal of Freedom from the first African-American president.
Now, to share his remarkable story with new generations, Lewis presents March, a graphic novel trilogy, in collaboration with co-writer Andrew Aydin and New York Times best-selling artist Nate Powell (winner of the Eisner Award and LA Times Book Prize finalist for Swallow Me Whole).
I feel like this is maybe the second or third time that this series has ended up on a TBR of mine. Hopefully this time I'll actually get around to reading it because I have consistently heard incredibly great things about it. I actually have the three volumes checked out separately and not as the compilation.
________
So there we have it, that is the mass of books that I hope to read during this month of August. What do you plan on reading? Let me know in the comments! And if you have a blog post, or a video, where you share your TBR leave that link in the comments too!
Hope you have a wonderful day & read a wonderful book,
Rae
Disclaimer:
All "purchase/buy" links are affiliate links to the Book Depository unless otherwise noted.